Find a class that works for you
We don't follow a standard program; we will customise an individualised program based on your needs. If you are new to Pilates, we will walk you through your options. Get started!
Come and visit us about El Estudio, we have a bright and airy space where you can enjoy the benefits of Pilates and learn what our instructors can do for you!
El Estudio creatively flows from the Reformer to the Tower, Mat and more, ensuring you never experience the same class twice.
Backed by science & beloved by athletes, this class rocks the exercises and sequences pioneered by Joseph Pilates, adding modern biomechanical principles to improve balance, posture alignment, flexibility, coordination, mobility, and core strength.
We kindly request you to book this level for your first booking. It is a full-body conditioning workout for beginners that aims to make you feel the burn throughout your whole body and even sweat from the very beginning, building up your stamina and endurance required to progress to the following levels.
Be ready to work HARDER.
Applying the basic principles and proper technique, acquired in the HARDER level, we designed this full-body conditioning workout based on foundation exercises and crossing over to the lower intermediate level exercises.
We aim to continue building up your strength and stamina by making you feel the muscles burn from the beginning of the class. Exercise modifications are offered to accommodate particular needs.
At this level, you are expected to be able to perform the essential Pilates repertoire and its transitions fully.
Be ready to work BETTER.
Are you up for a challenge? The FASTER level turns up the intensity, increasing resistance, levers, and endurance.  Join this highly technical class that follows the higher intermediate level of the Pilates repertoire.
At this level, you are expected to be able to perform the essential & lower intermediate Pilates repertoire and their transitions fully, and to have an adequate level of control and technique.
Are you ready to work FASTER?
This level requires a higher fitness level, stamina, and strength. This class level is offered on Reformer. Due to the extreme mobility, stability, and strength, this class is not suitable for people recovering from surgeries or injuries.
At this level, you are expected to be able to perform the intermediate repertoire and its transitions fully. Very few modifications are offered to maintain the flow of the class, but corrections are made to master the level.
This is a high intensity exercise class designed to challenge your mind and body.
Become STRONGER.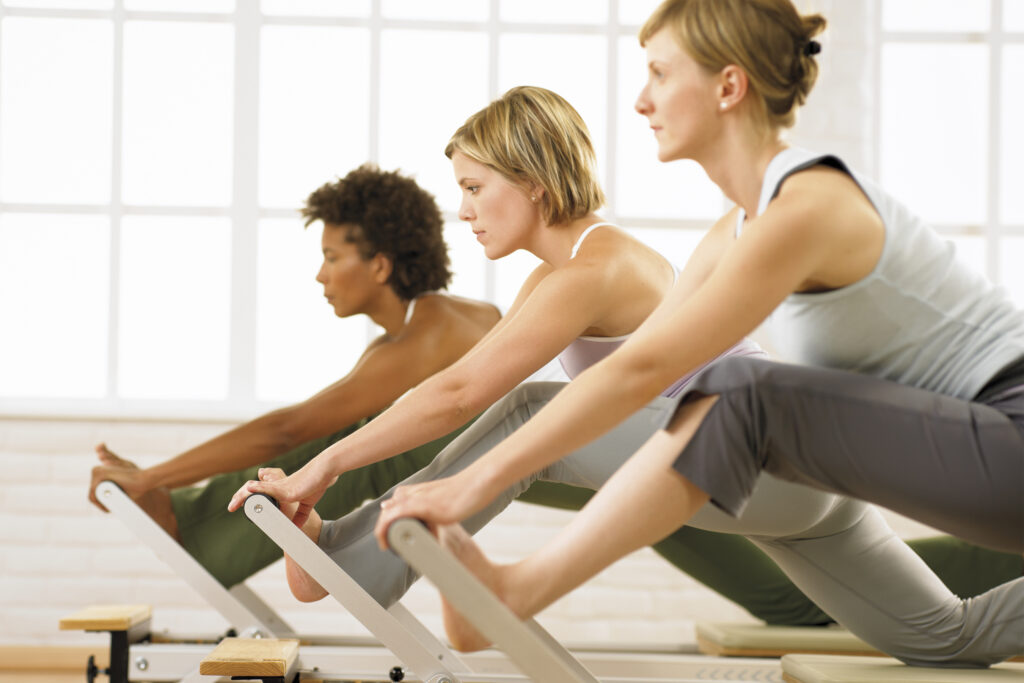 Identity

The perfect way to experience Pilates at El Estudio! An Essential Reformer Class with a contemporary approach! You will learn the biomechanical principles using the Essential Reformer Repertoire. Enjoy a 50-minute, full-body class, ideal for beginners and those wishing to recover and refine previously learned skills. Level:
Level HARDER
Supremacy
After building a solid Pilates foundation, the next step is to dive into the Lower-Intermediate Reformer Repertoire to get the most out of the workout as you work toward your goals. This challenging 50-minute, full-body class is easily modified based on physical limitations and focuses on general body awareness. *Experience Required.
Level BETTER
Ultimatum
50-minutes of an inspiring and progressive class, plenty of specific exercises, dynamic challenges and movements that offer a more demanding training that ultimately challenges the body and mind. This moderate to fast-paced class complements the Reformer's vast Intermediate Repertoire by incorporating quick transitions and exercises from the Advance Repertoire. Strength, Balance and Stability are the main focus. *Requires experience or instructor approval.
Level FASTER
Legacy
It is the most advanced class challenging accuracy and coordination and is perfect for those who have mastered form and alignment. These Advanced Reformer Repertoire exercises are achieved by expressing the deep mind-body connection embedded in the experience gained through the previous levels.
*Requires strong experience or instructor approval.
Level STRONGER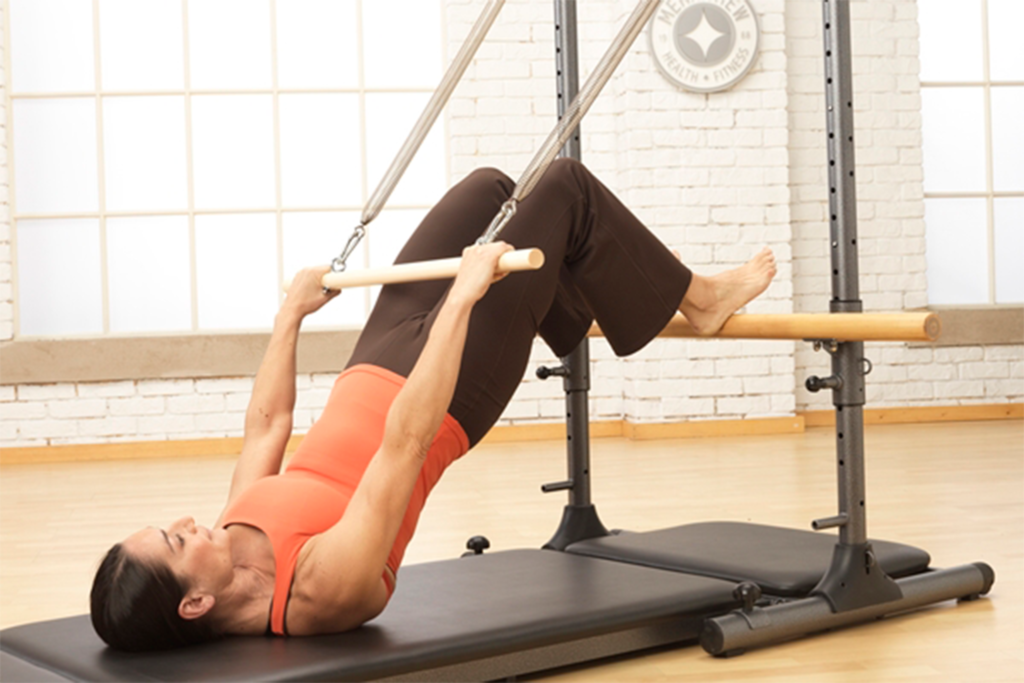 Ready for Revolution
Props: Stretching + Bosu/Band + Tower
Re-center and balance your body with equipment-assisted stretching. Center + Balance involves light movement and deep extension to leave you feeling long, loose, and ready to take on whatever the day brings. A regular stretching and strength routine helps reduce soreness and muscle fatigue, improve performance, decrease the risk of injury, and increase blood flow to your muscles.
Level HARDER
Revolution Tower
Soft and Toning balls
For those who want a safe and effective class experience to build a solid Pilates foundation. Focus on form and alignment to help you master Pilates fundamentals to get the most out of your workouts as you progress. This class is easily modified for physical limitations and focuses on overall body awareness.
Level HARDER & BETTER
Revolution Cannons
Foam Roller
Continue to build your practice with more complex movements using foam rollers props. Start exploring more precise and dynamic exercises. Class tempo is moderate and focuses on a steady class flow. Lower Intermediate exercises and coordinated movements are introduced, along with progressions and balance and stability challenges to give you a more demanding workout.
Level BETTER & FASTER
Revolution Tower Reloaded
All props
An inspiring and uplifting class that will fully challenge the body and mind! This moderate to fast-paced class incorporates quick transitions and will introduce you to more high intermediate exercises. Focused on Balance, Strength and Stability, this class creates dynamic challenges to elevate your practice.
Level FASTER & HARDER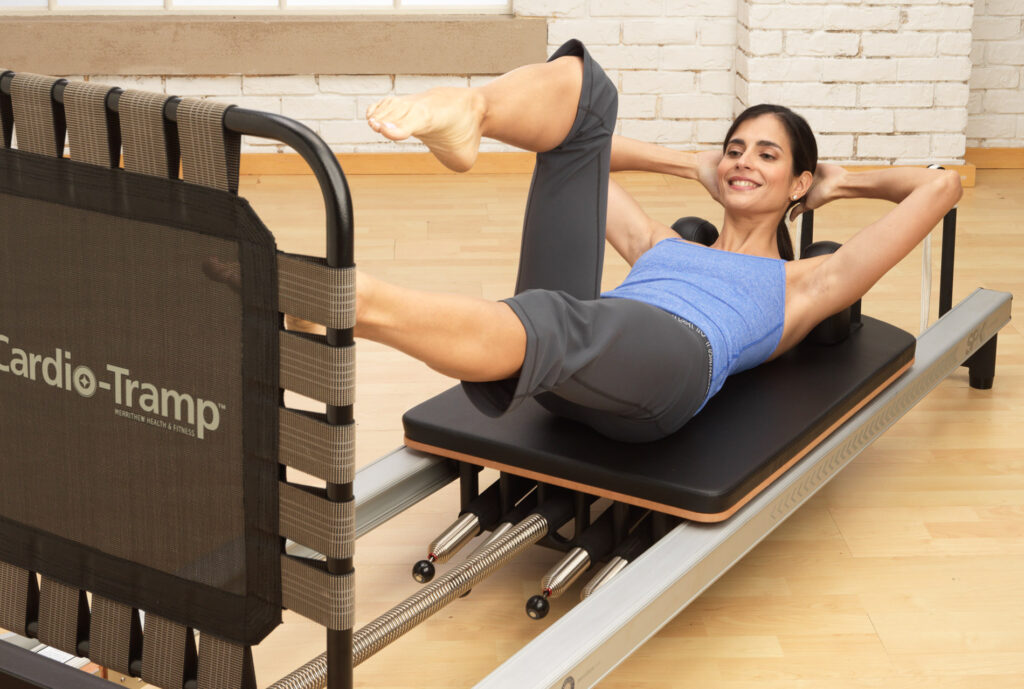 Cardio Tramp® New Hope Workout
Full body Pilates Party is a high-energy, low-impact class perfect for cardio junkies. The Cardio Tramp facilitates plyometric movement against customizable spring tension rather than gravity, creating an aerobic workout that's gentle on the joints and helps to increase bone density. Quick transitions and endless class variations take your practice to a new level!
Level HARDER
Cardio Tramp® The Force Awaken Workout
The Triple "I": Intense Interval Intermediate Class! If you're low on endorphins, try this class with Cardio-Tramp®. This trampoline makes it easy to do intense exercises, targeting the big power-producing muscles. Work your legs, glutes, abs, shoulders, arms and more with amplified intensity. It's an Athletic Conditioning Class that incorporates exercises of the Pilates method as well as basic biomechanics principles and technique.
Level BETTER & FASTER
This class is not recommended for those with physical limitations.
Cardio Tramp® The Phantom Menace Workout
May the force be with you during this High-Intense Interval Intermediate-Advance Class with Cardio-Tramp®. The phantom menace makes you sweat for 50 high-intensity minutes! The Plyometrics exercises are wisely mixed with intermediate-advanced Reformer Exercises. This athletic Conditioning Class targets at the same time the "Local and Global Stabilizer " muscles that work in a precise and meticulous manner, and the bigger, faster & more powerful "Mobilizer" muscles. This class is designed to tone your legs, glutes, abs, shoulders, arms and more with high intensity.
Level STRONGER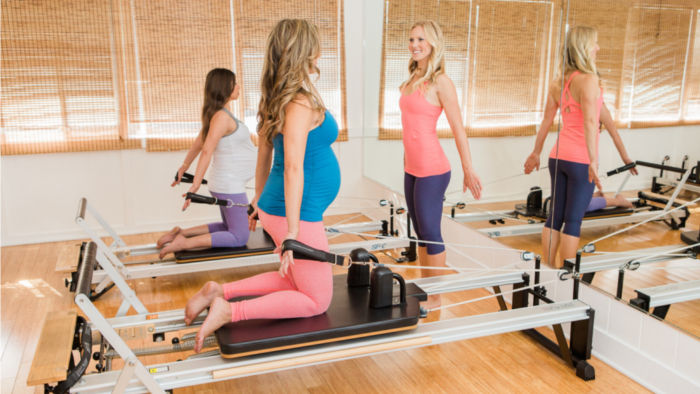 Back Care
We designed this back care program for those healing from spinal injuries, back surgeries, arthritis, osteoporosis, or suffering other back conditions. We will work in neutral alignment by developing the spinal stability, increasing the strength by adding mobility and building a strong solid base. We will provide modifications for different conditions and restrictions, as well as slower and safer transitions from one exercise to another.
PilaTeens
PilaTeens this programme can make a massive difference in your teenager's development and performance by providing a solid core foundation, focus on postural alignment, more robust and stable spine and joints and better movement patterns that enhance musculoskeletal development and athletic performance.
Prenatal Pilates
Following medical guidelines for pregnancy and exercise, we designed this special programme for pregnant women 20 weeks and up with GP clearance to exercise. By adding many modifications to help you stay safe and in shape during your pregnancy and keep your exertion levels manageable with many breaks. This class is designed to maintain and improve core strength and pelvic floor tone, reduce lower back pain, and strengthen your arms, glutes and shoulders. This will be paramount after delivery while breastfeeding and carrying your growing baby. This is the only class suitable for pregnant clients.
Postnatal Pilates
By providing and guiding through safe exercises that help reconnect the core musculature, protecting ligaments, building up the strength inside out by retraining the pelvic floor and deep stabiliser muscles. It is an excellent way to return to exercise, emphasising core stability and the safe strength of the whole body.